"The Sinking of HMS Punjabi"

by

Tel.Kenneth Tipper
On May 1st 1942 the Tribal Class Destroyer HMS Punjabi was part of a screen of destroyers on the flanks of a line of capital ships that included the battleship HMS King George V, the Carrier HMS Victorious, the battleship USS. Washington, and the Cruisers USS. Wichita and USS. Tuscaloosa.
The force was covering P.Q.15 on its way to Murmansk in Russia with vital materials for our ally in the fight against the Nazi's. I was a telegraphist aboard Punjabi, and my job was to intercept German Morse Code signals on high-frequency direction finding equipment
.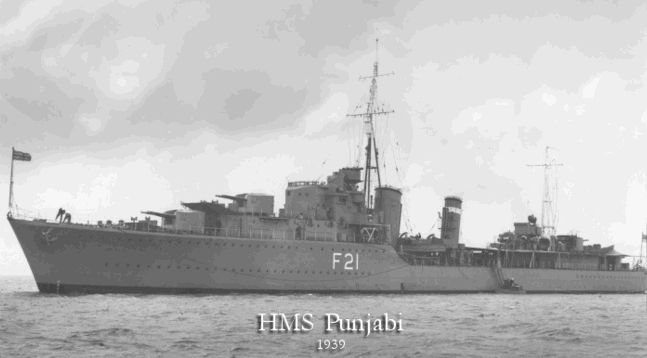 "HMS Punjabi" (Wright & Logan - Southsea)
We had left Iceland five days before and were in Arctic waters when at 15:45 on May 1st a thick fog descended on the fleet. I was in the main wireless cabin in the forward part of the ship, prior to relieving another telegraphist in the cabin aft where we conducted our interception work. Suddenly there was a tremendous crash, the Punjabi heeled over sharply on its side, and all the lights went out. First thought was that we had been torpedoed, but our nemesis turned out to be one of our own ships - the 34,000-ton battleship King George V had rammed and cut in half our 1,850-ton destroyer.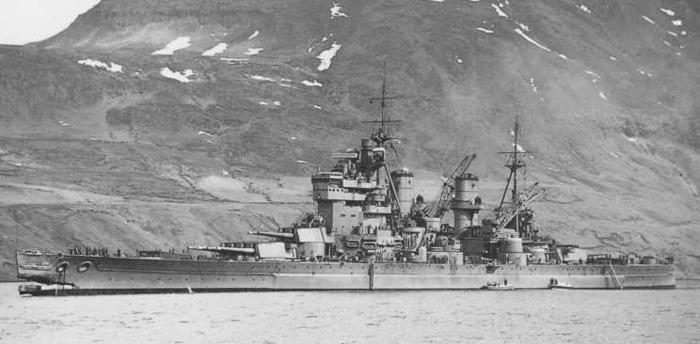 "HMS King George V", anchored in Seydisford, Iceland before returning to Liverpool for repairs.
.
I made my way up on deck, and soon after we got the order to abandon ship. Sliding down the sloping side of the forward part of the ship, I got a liberal coating of fuel oil on entering the freezing water. No swimmer, I looked around after coming to the surface, and was lucky to grab onto a Carley Float nearby, hoisting myself onto the side where I sat in freezing water until we were picked up by the destroyer HMS. Martin.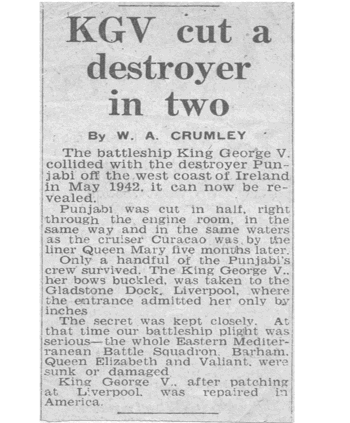 Press Cutting - Credit: Terry Hopkins (Ken Tipper points out disaster was off Iceland, not Ireland)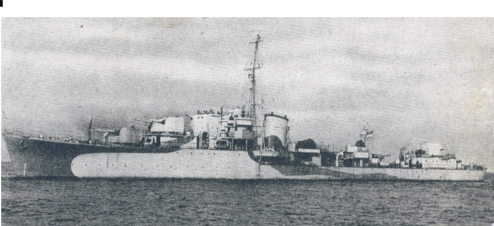 "HMS Martin"
As our stricken ship lay in two halves in the water, she was narrowly missed both by the USS. Washington and HMS. Victorious. The Punjabi's depth charges blew up as the stern sank, and the crew of the Washington felt the concussion as they passed by. The incident was kept secret until the end of the war, and a court of enquiry decided that Punjabi, in the fog, had turned across the bows of the battleship after being told to alter course to avoid a floating mine. Miraculously, only 49 of the Punjabi's crew were lost in what was one of the most bizarre incidents in World War 2. There were 201 survivors, who, in another twist of fate, were transferred to the battleship that sank their ship, in Iceland for the return trip to Scapa Flow, the Home Fleet anchorage in the Orkney and Shetland Islands. The King George V, with a huge gash in her bows, needed to return to Liverpool for repairs.Fate was not yet done with me, for while on deck of the King George V on the trip to Scapa Flow, I saw a member of the battleships crew emerging from a hatchway. He looked strangely familiar, and it took a while for he and I to recover from the shock of seeing each in such strange circumstances. We had last seen each other in the newspaper office where we both worked before joining the Navy. Our desks had almost adjoined each other in the Birmingham Gazette reading room.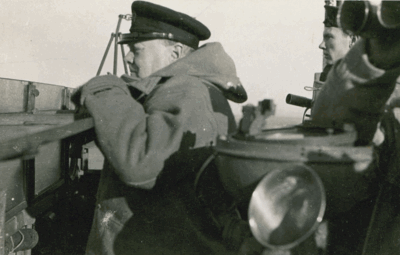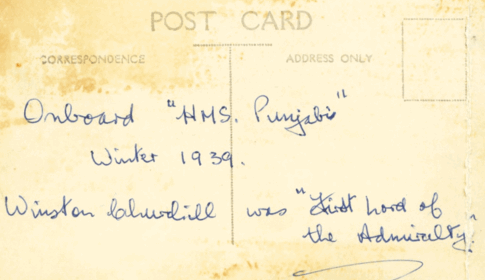 Winston Churchill on the Bridge of HMS Punjabi 1939 - John Sully (Signalman behind), this picture appeared in the British press and John Sully's Father spotted it. - (Credit - Terry Hopkins)
After Punjabi, I was sent to another destroyer, HMS Quorn, based in Harwich and doing convoy escort duty around the coast of Britain. We also took part in the sinking of a German armed merchant raider off the French coast. The Quorn was
sunk soon after D Day and I learned that all the telegraphists were killed. Fortunately for me, I had been in Colombo, Ceylon (Sri-Lanka now) for 18 months intercepting Japanese radio signals.
Fate still had not done with me though. We had emigrated to Florida in 1957 and in July 1973, I was reading the Sunday paper in my home in Pompano Beach when I saw an article about the reunion of the crew of the USS Washington taking place in Fort Lauderdale. I called the hotel where the reunion was to be held and spoke to the organizer, who asked me to join them for what turned out to be quite a memorable meeting with the guys who had last seen my ship in the Arctic Ocean, in two halves as they narrowly avoided hitting us. Later, I attended their reunion at the Naval Academy in Annapolis, Maryland, and in June 1989, at their reunion in Reno, Nevada I was made an honorary member of their association.
It's been more than 62years since that fateful day in May 1942, but I still recall the two telegraphists who lost their lives, one of them who I was due to relieve in just 15 minutes to stand the first dog watch. Very recently I have received a medal from the Russian Goverment for taking part in the "Russian Convoys".
I have been in E contact with a New Zealand Navy Reserve chap who saw my story on this website and whose uncle died on Punjabi. He has told me about a court-martial being held about the sinking just five days afterwards on the hospital ship HMS Tyne in Scapa Flow. I never knew about this and the fact that not only were the captain and officer of the watch on trial but the rest of us survivors!!!!! Both these officers were severely reprimanded and lost seniority. Nothing happened to the rest of us I guess.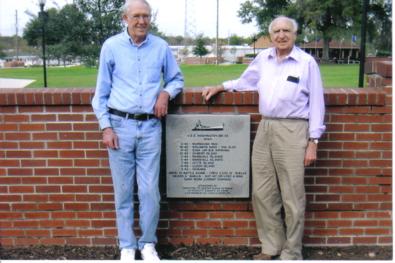 Two old sailors meet for the first time 65 years after their two ships were involved in one of the more unusual events of World War II. On the left is Seniors Voice writer Ken Tipper, and on the right is Albert Ward, who lives in Wales. On May 1, 1942, Tipper was aboard the Royal Navy destroyer HMS Punjabi, and Ward was aboard the battleship King George V. Their ships were part of an Allied fleet protecting a convoy to Russia. In a thick fog, while the fleet was well inside the Arctic Circle, the 35,000-ton King George V rammed and cut in half the 1,780-ton Punjabi. The destroyer sank in 45 minutes, and by a miracle, despite the freezing water and the casualties caused by the collision, 201 of the 250-member crew were saved. The picture was taken at the Ocala-Marion Veterans Park with a plaque commemorating the battleship USS Washington, which on that fateful day barely avoided a collision with the sinking destroyer. The two old sailors met through a letter Tipper wrote to the Royal Navy newspaper, "Navy News", asking for anyone who was involved in the incident to contact him.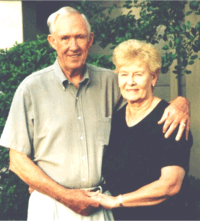 "Home" is in Florida.
I am father of two, grandfather of five. We are now great-grandparents to Elias Gregory, our first boy, who was born in November. So we now have five great-grandchildren. And of course I am now 85! Tempus fugit!!!with my wife of 60years to share our memories.
<![if !vml]>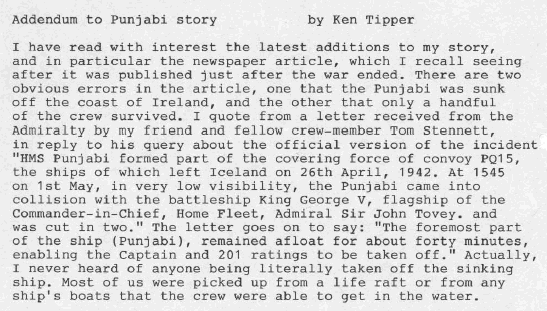 <![endif]>
<![if !vml]> <![endif]>

Roll of Honour - In Memoriam

Barry AM. Surg.Lt RNVR

Owens John/ AB

Black James. A/B

Piggin SF. Sub. LT RNZNVR

Brock Thomas W. O/Sea

Phillips Maurice PO.Stwd

Bruce William A. L/Sto (Ty)

Preston Theodore L/Stwd

Carmock William.Ck(O)

Pryse Idris G. O/Sea

Cook Tom O/Sea

Quin John B. O/Sea

Daniels Albert Stwd

Rigby Arthur O/Sea

Douglas Stanwyn Tel RNVR(W)

Roberts Clarence ET.LAB

Farr Lawrence B SBPO

Scott Collin F. O/Sea

Farrance Edward O/Sea

Shotton Harold Ass. Ck(O)

Finch William G. Sto. RFR

Stiff Arthur J. L/Tel R.FR

Ford William J. A/LSea

Thomas William I. O/Sea

Hadden William T. Sto1

Trenouth Leslie H. Ch.ERA2

Harbottle JW Lt.

Trotman Alfred E. AB

Irwin John J. O/Sea

Smellie HW. Sub. Lt. RNVR

Lloyd Dennis H A/B

Summers EJ. Mid. RNR

McDonald Edward Sto1

Vernon Roy CV O/Sea

McGugan Andrew Boy1

Vintcent LA. Lt.Cdr.(E) RN.

McKinley Alexander K. Sto1

Walmsley Richard Sto 2

McMullin Sidney O/Sea

Ward Daniel Sto 1

McNaughton DH. Ty Act. S.Lt RNVR

Watchorn Richard A O/Sea

McNaughton Thomas O/Sea

Watson Frederic W. Ass. Stwd

Middleton Albert T. A/B

Williams William L/Stwd(Ty)

Neave Ernest W A/B.

Wynne Dennis Sto 1

Neilson William A/B.
Copyright: Kenneth Tipper